TUOGH
(Paróiste na Tuaithe)
Or to give it it's full title – Tuath Chlann Uí She
The exact time when the parish got the name Tuogh is not certain but was probably around 1830 or so or perhaps later in 1844. On the secession of the Parish from Killorglin as up to then, since its resurrection after the Penal Laws, it was united with Killorglin as one parish.
The Cork Archaeological Journal of 1900pp. 65 referring to those early years of the Nineteenth Century says, "there was only one Parish" meaning of course Killorglin. However, according to the Kenmare manuscripts pp. 60, there was a church in Coolmagort in 1742 and this may be the reason for the ruin, at least one side wall, of a church to the south of our present church and running in east west direction.
It is not easy then to ascertain with any king of certainty as to when the name Tuogh (Tuath) was applied to this parish. It may have been far earlier than we imagine and could date back to pre Christian times and long before the church at Knockane was built.
The Name Tuogh is derived from the word "Tuath" meaning a whole clan or Sept and the district ruled by it. In this instance "Tuath" meant the Tuath san Eran" (who belonged to the Firbolg Race). Or the "Tuath Erans" who were the oldest inhabitants of this area and included the O'Shea's who were one time Kings of Corca Dhuibhne (Dingle Peninsula) and the Sects Moriarty's, Falvey's and Ferris's.
Those people were driven from their lands in Cíarraí Lúachra the district around Killarney by the invading tribes of O'Sullivan's, O'Donoghue's and McCarthy's. Who in turn had been expelled from the rich lands of South Tipperary around Cashel by the encroachment of the Normans in the early Thirteenth Century. The O'Donoghue's occupying the district around Killarney, the O'Sullivan's further west and the McCarthy's to the north.
The word "Tuath" also gives the derivation of the name Carrantouhill our highest mountain. In Irish it runs Cairn – Tuathail and one of the Ogham Stones at Dunloe has an inscription which reads in Old Irish:
"Maqa Tial, maqi vergos, maqi mucai Toccas", which when translated means, "The stone of the son of Tiol son of Vergos, son of the Kindred of Toicaci".
It is though that Toicaoi was a pagan Suan God and the stone was of great importance to the kith and kin and descendants of the great man buried there probably was named Tuathal, a Chieftain or Taoiseach and who sleeps within sight of the mountain, Carrtouhil, which seems to bear his name. The name Tuogh (Tuath) may date back to pagan times.
Fr. Batt O'Connor built our present parish church in 1837. O'Connor who was then curate in Killorglin. Donal O'Mahony of Dunloe Castle donated the site. Even though Catholic Emancipation had been passed in 1829 nine years earlier.
Still it was urged by the powers that be that Catholic Churches should be built in "as inconspicuous places as possible" and hence the reason that our Church was erected in a place so far off the beaten track. It was dedicated to St. Mary and was originally called "St. Mary's of the Moor".
Fr. Neligan carried out the first repairs in the Parish Church in 1908. He put on a completely new roof. At that time a controversy arose as to whether a new Church should be built elsewhere or the old one repaired.
Business considerations carried the day and the old one was repaired.
Major renovations were carried out it in 1934 under Rev. Michael Dennehy, later Canon in Caherciveen and again in 1957 under the late Canon Sears when the Mortuary and the choir balcony were added.
Fr. O'Halloran was our first Parish Priest, appointed in 1844 when we became a separate Parish from Killorglin. Fr. O'Halloran ruled the Parish for thirty-six years from 1844 to 1880 when he died and is buried in the church. He resided in Droumloughane where Jimmy Clifford's now lives, as the Presbytery had not been built then. Fr. O'Halloran seems to have a great character and real man of the people.
In 1872 the Earl of Kenmare died and his son who was Member of Parliament for Kerry had to resign when he succeeded to his father's title and thus a Bye-election had to take place. It was intended that a man named Dease, a cousin of Lord Kenmare from Co. Westmeath and a Catholic should get the seat. He was backed by leading Catholics who had other ideas and selected Rowland Blennerhassett, a Protestant to represent him.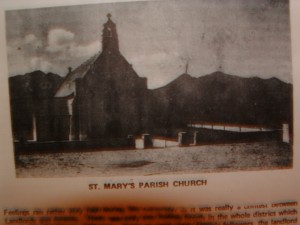 St. Mary's Parish Church
Feelings ran rather high during the Campaign, as it was really a contest between Landlords and tenants. There was only one Polling Booth in the whole district, which was in the Courthouse, Killarney. From an early hour Dease's followers, the landlord class, with the church and a "combination of Browne's, Herbert's, O'Connell's and O'Donoghue's" flocked to the Courthouse. On the other side were the common people with no real leader to urge them on and to make things harder for them it was Open Voting. Which meant that tenants had to shout out the name of Blennerhassett in the hearing of their landlords who had threatened dire consequences to anyone who did not vote for Dease.
Long after mid-day Blennerhassett had scarcely received a vote. Fr. O'Halloran and Fr. Batt O'Connor had mobilised their votes for Blennerhassett. They set out simultaneously in a calvade of horse drawn common cars from Tough and from Milltown where Fr. Batt was then Parish Priest. Both cavalcades met at Bennisk (Golden Nugget) and proceeded to Killarney led by the two Parish Priests who rode in the van in the same common car.
When they reached the Courthouse a huge shout went up from the tenants who had gathered but who were afraid to enter the Polling Booth. The two priests entered and voted openly for Blennerhassett, followed by tenant after tenant who needing but the least encouragement to vote likewise.
The result was a foregone conclusion. Long before the Poll closed the Landlord and their lackeys had retired to the safety of their homes. Blennerhassett won two to one. This was the last time that open voting was used in England and Ireland. We do not know what were Bishop Moriarty's reactions to the whole affair. Fr. O'Halloran died in 1880.
Fr. John O'Sullivan succeeded Fr. O'Halloran in 1880 but died in 1885 and is buried in the Church. He resided in Cullina House, the home of Keane O'Mahony who was a cousin of Bishop Egan.
Fr. Neligan succeeded Fr. O'Sullivan and it was he who built the Presbytery in 1897 in Cappaganeen. He died in 1916. He too is buried in the Church. Fr. Fitzmaurice, a native of Lixnaw succeeded Fr. Neligan in 1916 and ruled here until 1942. He lies buried in the Church Grounds. Or next P.P. was Fr. Maurice O'Connor, a native of Currow. During his time the new school at Cullina was built in 1950.
Also in Fr. O'Connor's time the Parish Hall in Beaufort was bought in 1942. He died a rather young man in 1952 and is also buried in the Church Grounds.
Fr. Pat Sears, a native of Ventry, was our next P.P. and during his time the beautiful little church in the Black Valley was built in 1955 and dedicated to Our Lady of the Valley. Mr. Boyd Barrett was architect but Fr. Sears was both contractor and even at times workman. It was very hazardous undertaking as all buildings materials had to be hauled by tractor through the Gap of Dunloe. Local workmen carried out the whole work, including Martin Sears brother of Fr. Sears, Dan Joe Falvey, John Sullivan, John Moriarty, and John Casey.
Picture Page 119
The Opening of the Black Valley Church
Fr. Sears left the parish in 1967 on promotion to Canon in Kenmare but in 1972 he had to resign through ill health and returned to his house in Coolmagort where he died in July 1976 and is buried in the Church Grounds.
Fr. John B. Daly, a native of Knocknagree succeeded Fr. Sears in 1967 during his time the nice grey marble Altar and Lectern in the Parish Church were erected in compliance with the Liturgy of Vatican II. Fr. Daly also got the new Parish Hall at Beaufort erected in 1972 at the cost of £11,000. Fr. Daly left on promotion to Causeway in 1977 and was replaced by Fr. Jerome Dennehy from Listowel, a native of Millstreet who is our present P.P.
In all, since the redrawing of the parish in 1844 to 1980 we have had nine Parish Priests and forty three Curates.
Our first Curate was Fr. Peter Barrett appointed in 1861.