Famous PlacesDunloe: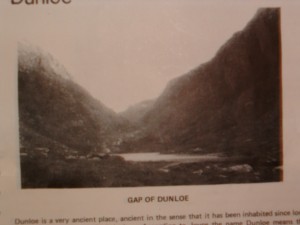 Gap of DunloeDunloe is a very ancient place, ancient in the sense that it has been inhabited since long before the coming of Christianity. According to Joyce the name Dunloe means the Fortress of Loch. Loch, whose full name was Loch Mac Eamenis was a very ancient chief in Munster and who killed Cuchullain as he took part in the war of the Tain Bo Cuailgne or Queen Meabh's side against Conor Mac Nessa and Ulster about the year 20 B.C.

Loch or Lugaid, killed Cuchullain in revenge for his father's death, Cu Rí Mac Daire who was killed by Cuchullain.

Loch killed Cuchullain by hurling the magic spear, which killed him near Dundalk. This death is commemorated by the sculpture in the G.P.O. in Dublin. The presence of Ogham stones taken from a cave near Dunloe Castle indicates that the district was occupied in pagan times as those were pagan headstones over the graves of some important pagan personages. (The translation of the Inscriptions on those stones is to be found in Trinity College, Dublin).

The cave at Dunloe was a very ancient souterrain discovered in 1838. In the late 30's it was excavated by Commander O'Connell and found to be roofed with Ogham, carved pillars of natural rock. They now stand in cement in a circle a short distance from where they were found. They were probably headstones from a now unknown pagan cemetery in the vicinity of the Dun at Dunloe. Bones and skulls were found in Dunloe Cave when it was opened.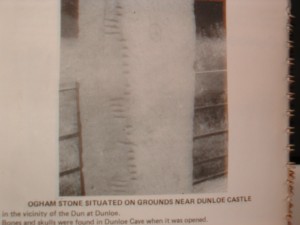 OGHAM STONE NEAR DUNLOE CASTLEA poet said regarding Dunloe Castle:

"High on a cliff, thy grey square Tower, Dunloe overhangs the darkly welling edging Laune and fronts the mountain gorge with threatening frown as tho' in menace of the natural Foe."

Dunloe then from its position on the River Laune and at the entrance to the Gap of Dunloe was from the earliest times a most suitable place for a fortress. The Normans were quick to notice it when they had conquered the country from Limerick to the River Laune. And so strengthened the fortress at Dunloe and even built one of their castles there in 1213 A.D. John Fitzgerald (John of Callan) who had built the castle was killed at the Battle of Callan 1267. Where the Normans were completely defeated by the O'Sullivans and Mc Carthys and were driven back beyond the River Maine. Where they remained for hundreds of years and Dunloe once again fell into the hands of it's lawful owner namely Donal O'Sullivan Mor and remained in O'Sullivan hands until 1640 when it was badly damaged by Ludlow, Cromwell's General on his way up the River Laune to attack Ross Castle. It remained in ruins for some time until 1665. John O'Mahony, a chieftain from West Cork who had married O'Sullivan's daughter and had to flee from Cork to the safety of his father – in – law's country and lived in the Black Valley, where a cock picked out the eye of his son with the result that he was afterwards known as Donal Caoch O'Mahony or (Donal Caoch O'Maghuna).

Donal Caoch became owner of Dunloe in 1707 on the death of his father. The Penal Laws were at their worst but Donal became the great champion of Catholics. He had up to 4000 tenants, composed mostly of Coffey's Scully's and Cremins who had fled with his father from Co. Cork and whose descendants still live in the Dunloe area. Many stories are told of his raids and reprisals for the wrongs done to his subjects. He even raided a military camp at Ross Castle and recovered stolen property to the value of thousands of pounds. Froude, the English historian said to him "Daniel O'Mahony was a wilful man, without remorse of conscience and took intermediate tenancies from many absentee landlords. He had 4000 tenants whom he could mobilise and once with the white robed lads he could terrorise the whole countryside". Those men were called "O'Mahony's Fairesses" because they looked like ghosts, Siafrai na Tuatha.

Froude, the English historian and no friend of Ireland remarked: "The Viceroy might be supreme in Dublin Castle but Daniel O'Mahony was supreme in Kerry."

He used the Gap of Dunloe as a sort of corral for the cattle he had recovered from unscrupulous Protestants and with some sentries at the entrance the place was impregnable. Donal died in 1729 and his descendants except for a few short lapses remained Catholics in spite of all coercion, down to 1919 when the last of them died leaving no issue. In 1920 the Castle and Demesne were bought by Howard S. Harrington, a rich American who got himself entitled "Chieftain". He spent a fortune in getting trees from most parts of the world to grow in Dunloe and also pioneered the making of a turf machine.

Kate Kearney's Cottage and others.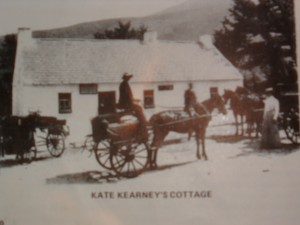 Kate Kearney's Cottage
Kate Kearney's Cottage is at the entrance to the Gap of Dunloe in a place called Doirín an Chuileann.  It was built by Donal Mór Moriarty, a local man whose family home was close by.  The house was built on Moriarty land which he and his brother Con (Corni) had divided between them.  When Donal began building the cottage in 1849 he was already married to Julia Burke from Beaufort and his daughter Mary was seven years old.  Mary inherited the cottage on the death of her parents, all her siblings having emigrated.  Her husband was John Moriarty from Comín Sléibhe near the top of the Gap.  The property was in time left to their son Denis (Denny) following the early death of his older brother Danny.  Jerome Coffey from Beaufort came to the Gap to manage the business for Denny, a bachelor, his mother's brother.   Jerome inherited the cottage and he and his wife Joan Riordan from Killarney expanded the business. After Jerome's death that expansion was continued by his only son Jim who married Mary Doherty from Donegal.  It is now in the capable hands of Jim's older son Seán.
Lady Morgan made Kate Kearney famous with the song:
"Oh did you hear of Kate Kearney?
She lives by the Lakes of Killarney.
From the glance of her eye
Shun danger and fly,
For fatal's the glance of Kate Kearney's."
Besides Kate Kearney's Cottage there is another fine Souvenir Shop namely "Gap of Dunloe Industries." The proprietor Michael Moriarty ensures that everything he sells is of the highest quality and also as far as he can possibly go, all his stock is of Irish manufacture.
He trades principally in tweeds and knitted goods, but keeps a stock of most items, which come under the heading of Souvenirs. He has a good turn over each year and it would pay anybody to pay him a visit to see the fine stock he has of Irish made tweeds and linen and his fine supply of hand – knitted goods.
There are many first class tea – rooms along the way where visitors can get first – class refreshments.
Dunloe Cottage, owned by Jimmy Meara
St. Brendan's Cottage owned by Jerry Coffey
Colleen Bawn Cottage owned Maureen Connor
St. Patrick's Cottage owned by John Moriarty
Arbutus Cottage closed.
There are 120 ponies for hire at the Gap and the pony men have a system of arranging the rota of being hired, called 'the turn' but it is so complicated that no one except the pony men themselves can understand it, but it works.
Photography began in the Gap in 1890 by Louis Anthony helped by Mr. Bullock. In 1930 Parish Photographers started – Jerh Breen, now in Killarney, Jeweller helped by Danny and James Coffey and Mick Shea, until Denis Moriarty took it over in later years.
Johns Flourmill, Dunloe
St. John's Mill Dunloe was built by the landlord, Donal O'Mahony of Dunloe Castle in 1874, as an amenity for his tenants. Unfortunately it is now in a bad state of repair. It was a strong built four story construction and the machinery was worked by water power brought by sluice from the river Loe entering in Doney Scully's field. The big wheel is one of the largest in the country; it measures twenty-six feet in diameter with a rim six feet wide and weights ten tons. All kinds of grain – wheat, oats, barley were ground there between the huge crushing stones or querns. It proved a wonderful boon to the people not only in this parish but all mid Kerry and even much further a field during the two Great Wars 1914 – '18 and 1939 – '45 when no imported wheat or flour was available. It produced first class flour at a very cheap rate. One of the first millers was John Reidy, a very polite well – read who lived at the mill. He was assisted by his brother – in – law, Batt Coffey who was commonly known as "Batteen The Miller", and lived in Dunloe. When John Reidy died his nephew, William Williams of Tralee took over and he kept the mill going all through the Second World War. The mill worked night and day and Williams and his sons were kept very busy as every daylong, line of carts laden with wheat or barley could be seen approaching the mill.
But to return to the O'Mahony's, they were landlords of all lands east of the River Spideog and right through the Gap into the Black Valley. The O'Mahony's west of the Spideog, that is in Cullina were completely different family. The Dunloe Mahonys on the whole were fairly benevolent landlords, but some were real tyrants. On the credit side they gave a site for our church, the improved road through the Gap and built Kate Kearney's and got it licensed to sell beer etc. Donal O'Mahony built St. John's flour mill in 1874 which proved a wonderful boon to the people of mid and east Kerry, especially during the two world wars when no imported flour was available. Another point in the O'Mahony's favour happened in 1867, the year of the Fenians. The Fenians marching from Caherciveen, not hearing of the postponed Rising and kept on marching avoiding Killorglin and kept on to Cullina where they met my Grandfather and asked him if he could show them they way back to Caherciveen. He could not go very far with them as on that night my father was born but he conveyed them to Denis Cremin who lived near Dunloe Mill. Denis took them to the Valley and showed them how they could cross into Brida and on to Bealac Oisin. One man got ill and could not go further than the valley where he was cared for carefully by the people.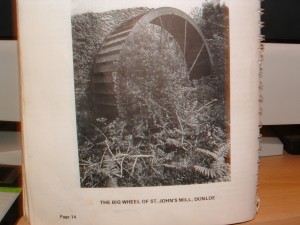 The Big Wheel of St. John's Mill Dunloe
In the meantime many landlords and their lackeys who had rushed into Killarney on hearing of the coming of the Fenians and sent messengers for help to the Military in Cork. When the soldiers arrived they became very brave and set out to hound down any poor straggling Fenian they could find. It was rumoured that one loitered in the Valley. They searched every house and Donal O'Mahony to his credit knew the house and made sure to be in first and sat on the seat within in which the fugitive was hidden and so kept the others from searching. In due course the man recovered and returned home. Otherwise if he were caught he could be transported.
Some of those O'Mahony's won fame abroad in many spheres but the most famous and best know was Captain Dan O'Mahony of the Irish Brigade who defended Cremona for the French against the Austrians and afterwards served with Spanish Army. The owners of Dunloe after Mr. Harrington had died were first Dr. Slattery of Tralee and when he died about 1939 Miss Pettit bought it and in 1954 she sold the western half to Dr. Craig of Beaufort House. In her will of 1960 she left the eastern part to the Franciscans of Killarney, who in turn sold it to the Germans who built a big Hotel there, Hotel Dunloe Castle. Naill O'Leary owns the Western part.
In Dunloe Demesne is "Tobar Chriost" field near Loe Bridge. "Rounds" were made there on Good Friday. Everybody who made the "Rounds" left some momento such as a button, a coin or even a pin on the little building over the well. Dunloe also contains a Cillin, a burial place for young children. It is just beside the Hotel but is no longer used.
Dunloe Castle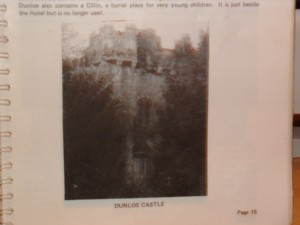 The most numerous surnames in Dunloe area are Coffey, Moriarty and Ferris. Doyle was once the predominating name but now only one person of that name resides there.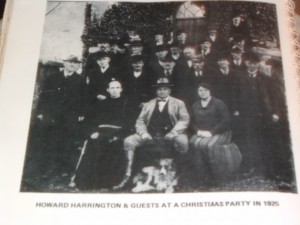 Howard Harrington & Guests at a
Christmas Party in 1925
Note on Mrs. Levinge:
Miss Frances O'Mahony and her sister, Miss Marcella O'Mahony, both of whom claim they were the last owners of Dunloe Castle. Miss Frances O'Mahony married a Captain Fagan an MP for Dublin. He predeceased her and she married a Major Mangles. Marcella did not marry. Frances had two children by her first marriage to Captain Fagan, and a son and a daughter. The daughter Mary Elizabeth married Henry Levinge but there were no children of the marriage. Mrs. Levinge always claimed that she was the last survivor of the O'Mahony family. She bequeathed a beautiful stained glass window at the side of the Alter in our Parish Church. She died a few years ago in England. John O'Mahony, Cullina Lower donated the fine Stained Glass Window at the rear of the Altar. Also the money from the sale of Gurrane Demesne went to the Church.
The Germans have built a sort of summerhouse and bulldozed the Cillin out of the way. In 1922 Howard Harrington (already mentioned) of Dunloe Castle, took over the mill in an effort to produce a turf machine which would cut and dry the turf, a forerunner of Bord na Mona. He employed experts Mr. Fay and Mr. Robinson with several workmen and for almost two years they experimented many angles of producing a machine. One of their greatest difficulties was to get a machine that could travel on the soft bog, caterpillar wheels were not common then. It was a brave effort but failed. Alas the familiar boom of the mill will never again be heard. "Tá an sruth geal I ndisc, is an coblach in a thimceall. Tá an roth in a shior – stad, gan torann, gan tonn ar bhoithrín na smaointe chim plasog na rinnce, ní cloistear ceol pibe cois muileann na h – abhann."
In passing it may be mentioned that Mr. Harrington intended to test his machine on that fine area of turbary beyond the top of Strickeen Mountain. That turbary is the property of the tenants of the Dunloe Estate, namely the people of Coolmagort, Beaufort, Dunloe and Dunloe Upper.
Ogham Stones situated near Dunloe Castle